MANUFACTURING PROCESS OF THE INDUSTRIAL SALT ENVISAGED BY SBPL: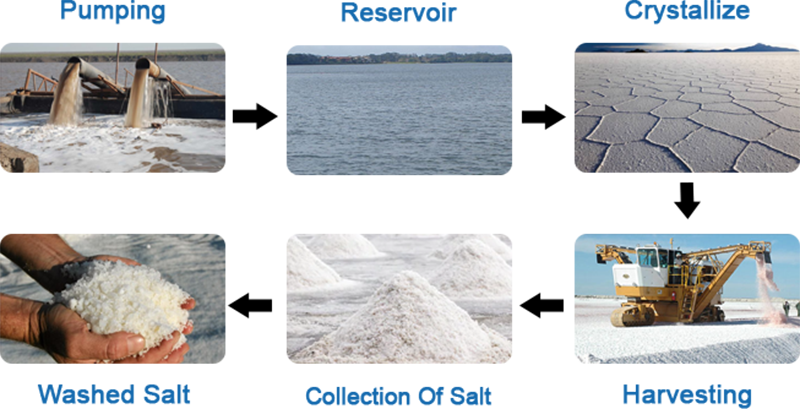 The steps involved in the manufacturing process of industrial salt are as follows
THE SIMPLEST METHOD OF EVAPORATION OF RANN BRINE IS SOLAR EVAPORATION. 
The Rann brine is pumped from channel to the reservoirs by pumps and through feed channel arrangement.
The brine is moved one more time before evaporation is completed to prevent highly soluble impurities such as magnesium chloride, magnesium sulphate, potassium chloride, and magnesium bromide from settling out with the salt.
The salt is harvested manually or by machines. It is then washed with concentrated salt water.
This water contains so much salt that it cannot hold any more, so the salt is washed free of any trace impurities without dissolving
It is the oldest method of salt production. It has been used since salt crystals were first noticed in trapped pools of sea water. It is applicable only in warm climates where the evaporation rate exceeds the precipitation rate and there are steady prevailing winds.
Solar salt production is, typically, the capturing of salt water in shallow ponds where the sun evaporates most of the water. The concentrated brine precipitates the salt which is then gathered by mechanical harvesting machines. Any impurities that may be present in the brine are drained off and discarded prior to harvesting.
The process of salt production is principally by evaporation and crystallization. It involves a series of evaporations to lower the water content and reduce the solution to a concentrated liquid of salt or brine. This will then be subjected to a crystallization process in open crystallizer to produce sodium chloride or common salt. The salt so formed is harvested and stacked.
SBPL shall have 42 crystallizers of 80 hectares capacity each for the production of industrial salt. All natural phenomena such as wind velocity, humidity and temperature will only help support the evaporation and crystallization process.